The History of Roulette
Named after a French word meaning little wheel, roulette's origins go back to the 18th century. Around 100 years earlier, Blaise Pascal had invented a rudimentary version of the game, a byproduct of his quest to devise a perpetual motion machine. As is often the case, the creation of roulette involved the convergence of several existing betting and wheel-based games. The earliest mention of roulette can be traced back to 1796, and even then there were two numbers reserved for the bank – zero and double zero.
While the numbers and layout of the roulette wheel have differed from country to country over the years, the basic format of the game has remained unchanged. Today, roulette is one of the most popular casino games in existence and is enjoyed at real world and virtual casinos on every major continent.
The Advantages of Playing Live Dealer Roulette
Online gambling is, for the most part, a solitary pursuit. Sure, you can play simultaneously with your friends in the same room, and with some games you can even play simultaneously with your friends in the same virtual room. By and large though, online gambling is a lonely pastime, one that no amount of online chat windows with fellow players can ameliorate. Admittedly, most players aren't seeking companionship when they sign up to play at an online casino: they're seeking money, and hopefully a few thrills along the way.
With live dealer roulette you can experience all that – the money and the excitement – but you can also experience the sociable aspect of playing with others in real time. With most casino games, such as poker or blackjack, you're competing against other players. With roulette, you're only competing against the house. In other words, it doesn't matter whether other players elect to cover the same numbers as you; if you're both on black 36 and it comes in, you'll still receive the maximum reward. This, coupled with the fact that roulette is a purely luck-based game, makes it well suited to live online play.
Where to Play Live Dealer Roulette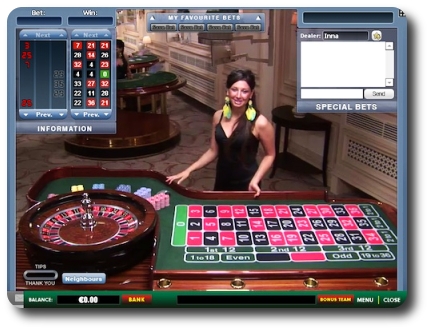 It used to be the case that live dealer roulette was only available in a handful of larger web-based casinos. Not any more. Thanks to improvements in video streaming technology, plus a growing realisation on the part of operators that live games increase customer engagement thereby boosting revenue, the game is becoming ubiquitous. It's common to see casinos large and small offering live dealer roulette as part of a package of live casino games, the remainder typically comprising blackjack, baccarat and occasionally poker.
It's not just online casinos that are offering live dealer roulette either: many sportsbooks have followed suit and so have a number of bingo sites and other gambling websites. Of course, many of these sites are linking to the same games being broadcast live from the same casinos. There are a number of casinos, such as Malta's Portomaso Casino, that are famous for their live roulette games which are broadcast all over the web, with various software developers including NetEnt supplying the platform that brings the real world game to the virtual casinos it's hosted at.
What to Look for When Choosing a Live Dealer Casino
While there is no shortage of casinos offering live dealer roulette, the quality of service can vary, even when they're supplying the same live game from the same premises. There are numerous factors that can affect this. One of these is the location of the online casino's servers. Generally speaking, the closer a site's servers are to you geographically, the faster the ping, and thus the better the quality of live broadcast you'll receive. This is important when streaming live roulette and other casino games, which are often broadcast in HD and thus use up a lot of bandwidth.
Server location isn't the only factor that will affect the quality of service you'll receive, but it certainly plays its part. The other thing to bear in mind is the device on which you intend to play live dealer roulette. Many of the live casino games are designed for desktop only, and won't work on smaller touchscreen devices. It's becoming more common to see mobile-compatible live casino games, but not all casinos offer these as it stands. Bear in mind that streaming content is data intensive, so if you are playing on mobile or tablet, make sure you're using WiFi and not 4G.
One last thing to pay attention to are the allowed minimum bets. Since the casinos are employing dealers to spin the wheel, the minimum bet is often higher than for normal roulette games without a live dealer. At CasinoEnVivo you can check the minimum bet you can place at the live roulette tables of various online casinos.
How Live Dealer Roulette Works
Normally when you're playing at an online casino, a Random Number Generator is determining the outcome of every game. With live dealer roulette, there's a real wooden wheel with a real ball rolling around it, streamed on live video. The bets placed by you and your fellow players are performed electronically, but in every other respect, the process is no different to playing in a bricks and mortar casino.
The size of each live dealer game can vary dramatically; with some online games it will simply be you, the dealer and a handful of other players, scattered all over the world. Other games, including those broadcast on late night television, can attract hundreds or even thousands of players. That's the thing about roulette: it's completely scalable, so that there's no maximum limit on the number of players who can bet.
The Pros and Cons of Live Dealer Roulette
The advantages of playing live dealer roulette are self-evident: it's a fun means of betting online and one that's far more sociable and interactive than its virtual casino counterpart. Some players will also feel more trusting of a real game. While the Random Number Generators used to power virtual roulette games will have been tested to ensure fair play and honest payouts, knowing that your fate is determined by a real ball bouncing around a real wheel  will comfort many players.
Naturally, it's imperative that you choose a casino you can trust, not least when it comes to depositing funds into your playing account. Provided the casino has a good reputation and uses 128-bit encryption to safeguard customer transactions, you should have nothing to fear. There are a few disadvantages to live dealer roulette you should be aware of, not least the fact that night owls may find there are no games hosted during their preferred hours.
Many casinos only offer live games during peak hours. The rest of the time, you'll need to content yourself with virtual roulette. Still, if you are able to experience live dealer roulette, you'll likely conclude that it's almost as good as the real thing.