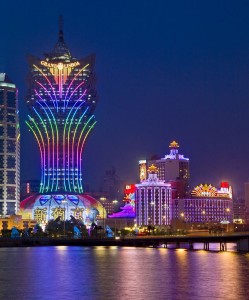 Gaming revenue in Macau continues to rise, and casino operators like Wynn Macau and Sands Macau are enjoying the huge benefits of having gaming properties in locations other than Las Vegas. While some US operators are happy to see small increases in revenue as the US economy improves, Macau's revenues are up 15% for the first three quarters of the year. Last year gaming revenue rose 42% year-over-year in Macau.
Macau is the only place in China where casino gambling is legal, and in 2011 Macau out-earned the famed Las Vegas Strip nearly five-to-one. Total revenue in September was US$3 billion, dwarfing the solid incomes of other gaming spots in the US like Atlantic City and the Mississippi coast. Table games are a favorite of casino visitors in Macau with blackjack, Sic Bo, and roulette drawing many players. However, baccarat is by far the favorite game and the largest income producer for casino operators.

The continued rise in revenue was also good news for Chief Executive Ambrose So and SJM Holdings Lt. which operates 16 casinos and three slot lounges.  SJM is Macau's largest casino operator and was awarded approval to open a new casino in Macau's Cotai area.
According to SJM, a land concession lease contract with the government (at a cost of US$268 million) was signed and accepted by both parties and will eventually allow the company to construct  a new five-star hotel with 2000 room. The property will include a major casino anticipated to offer 1,000 slot machines and 700 gaming tables.
SJM's casinos are found on the Macau Peninsula and Taipa Island. The company is one of just six gaming operators licensed by the Macau Special Administrative Region for legal gaming.
This week also saw MGM China Holdings Ltd. approved for a new US$2.5 billion casino project in Macau. Revenues would help bolster the debt-heavy MGM Grand which operates 19 casinos in Nevada, Mississippi, and Michigan.