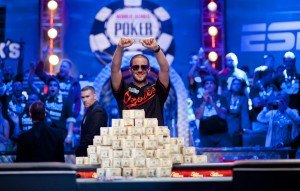 The world's most prestigious trophy, a jewel-encrusted bracelet with 2012 WSOP World Champion emblazoned across its face went to 24-year-old Greg Merson after he bested a field of nearly 6,600 players in the Texas Hold'em tournament with a very steady, contemplative, and selectively aggressive style of play.
Players put up $10,000 each for the week-long tournament, but the nine players that made the final table back in July had to wait until Monday to resume play at the final table. This year the players averaged over sixty hours of actual tournament action to get to the October 29th final. On Monday the field was whittled down to just three players before Tuesday's final.
Maryland-native Merson was the best prepared player of the three, having already won a WSOP bracelet in the 6-handed $10,000 buy-in tournament this summer. However, it took him nearly 11 hours and over 300-hands to knock-off 21-year-old Arizona State senior Jake Salsiger who got all-in with a suited queen-ten. Merson's King-queen held-up when neither player paired-up on the five-card community board. Salsiger pocketed $3.8 million for his marathon play.
Merson and second-place finisher Jesse Sylvia fought back-and –forth for another hour before Sylvia got all-in with a suited queen-jack. Merson showed king-high and the board failed to improve either hand. Sylvia accepted $5.4 million for his second-place finish.
ESPN broadcast the event live, and without the showing of player's cards as has become the norm with televised poker. Unfortunately, with so much money at stake for the players, play was understandably slow. Many viewers, Doyle Brunson and Daniel Negreanu among them, complained about the lack of action.
The idea of instituting a timer has been bantered about, and this showing put the icing on the cake – if play is going to be shown nearly live, as it was this year, a clock is the only thing that will keep viewers tuned to the action.
The UK's Mansion Poker used a speed poker format for their televised Poker Dome. The TV format wasn't perfect (I know – I played in the $25,000 preliminary tournament); but it could be re-formatted for excellent TV coverage.
With hope, ESPN executives and WSOP tournament directors are discussing options for next year's events and their televised final tables.