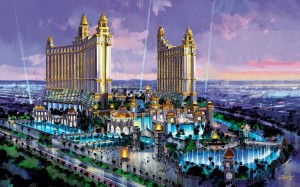 Massive casinos are being constructed in South Korea, the Philippines and Russia and are part of a growing trend of Asian governments intent on capitalizing on the tourism market by aiming for the pockets of wealthy Asians who love to gamble.
Las Vegas-style resort casinos that are hoping to copy the success of Macau–which now boasts the largest casino market in the world–will soon be sprouting up in several locations throughout Asia. Singapore opened two new casinos in 2010 that have taken in $6 billion each year thus far.
"Definitely, the success of Macau has set off a chain reaction in what is happening in the region," Francis Lui, the vice chairman of Macau casino operator Galaxy Entertainment Group told AP. "After the success of Macau and Singapore, of course you see more countries now assessing the pros and cons of having gaming as a driving engine for bigger economic growth."
Many regions in Asia are enjoying a growing prosperity that is allowing millions of people to join the middle class in large part due to increased incomes. That burgeoning class is spending more on travel and leisure activities, including vacationing at resort casinos. It is anticipated that by 2015, revenues from casinos in Asia will overtake the U.S. as the world's largest market. PricewaterhouseCoopers has forecasted the gambling market in the Asia-Pacific region to go from $34.3 billion in 2010 and more than double to $79.3 billion in 2015, which will surpass U.S. market estimates that will increase to $73.3 billion during the same period.
Those projections will be buoyed by a casino in Cambodia that will put the finishing touches later this year on a $369 million expansion project that includes hotels and shopping malls in Phnom Penh. Vietnam will also be opening its first resort casino next year, a $4.2 billion development in the southeast that hopes to draw foreign tourists. Interestingly, both Vietnam and Cambodia forbid their own residents from entering and gambling at their casinos.
Japan has also been debating the legalization of casino gambling to stimulate the economy and increase revenue after the devastating tsunami last year put a dent in the country's economic growth. Taiwan has long been opposed to casino gambling but the tide has begun to change as residents of Matsu–a tiny outlying island–voted approval for the country's first casino in July.
Macau's success is attributable to ending a 40-year run of allowing only local investors and permitting the likes of Wynn Resorts, Las Vegas Sands and MGM Resorts International to erect casinos that soon were generating more revenue than the Las Vegas Strip. Travelers from mainland China with deep pockets are mostly responsible for Macau raking in $33.5 billion in revenue in 2011.
Though the revenue from casino gambling is immense, there will always be naysayers that point to the side-effects that gambling tends to bring with it. Many Asian countries are looking at Singapore as somewhat of a model of efficiency in that regard, as the country has strict measures in place to combat gambling addiction and organized crime.