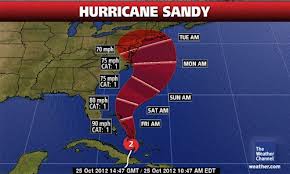 Casinos along the east coast of the United States closed their doors Sunday and Monday as Hurricane Sandy headed straight for Atlantic City with winds peaking at 65mph but bringing hurricane-force blasts already estimated at 160mph across the ocean. In the Garden State of New Jersey, Gov. Chris Christie ordered all casinos along the famous Boardwalk to be closed by 3pm Sunday.
The resorts along the coastal town send most of their staff home after evacuating the hotels, restaurants and casinos. Some of the properties were already abandoned by players as early as noon, just before the waves started crashing and the rain began pelting the casinos.
Players streaming from the gambling mecca headed down the Atlantic City Expressway with a final gift from the city – free tolls for all outbound traffic. Employees are expected to take a holiday (albeit a fearful one) of at least 72-hours.
Up the coast in Connecticut, other casinos closed included two of the nation's largest and most profitable. Like Atlantic City's casinos, Connecticut was quick to respond to the threat of Hurricane Sandy and are prepared for the storm's forces a day before the winds are expected to arrive. Mandatory evacuations are already in force for many coastal towns from New Jersey across to New York.
Partial mandatory evaluations are in effect for towns close to Connecticut's casinos from Stamford to Groton, and included Long Island Sound. Power outages from high winds, with surging waves and flooding also anticipated. Gov. Dannel P Malloy of Connecticut ordered state highways closed to all traffic with the exception of emergency vehicles by 1pm.
Mohegan Sun casino in Uncasville and Foxwood Resorts casino in Mashantucket are slightly inland from the coast but could be hit by thunderous winds as Sandy is expected to roar up the coast towards Rhode Island before dissipating. The casinos will gauge the storm, its impact, and possible traffic concerns before returning workers to their jobs.