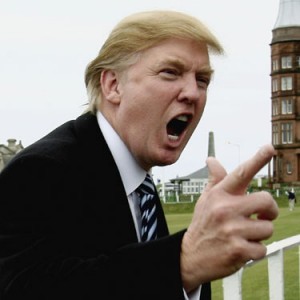 Revered business magnate Donald Trump has successfully lobbied to have the famous Trump name removed from the Trump Plaza Casino. In a lawsuit spearheaded by both Trump and his daughter Ivanka, the lettering will be physically removed from the dilapidated casino in a move that could be the nail in the coffin of a struggling company.
Trump Entertainment Resorts has truly experienced a fall from grace in recent years. The company formerly had seven properties including Trump Casino, Trump Plaza and Trump Marina. The expansive company was backed by the reputable name and substantial backing of Donald Trump, but today the entrepreneur has no association with the company except in name – a mishap he has acted to rectify. The loss of the Trump name is a clear sign that TER is on its last legs, with just one casino currently operating.
The Taj Mahal was first purchased by Trump in 1988 as an unfinished project. It finally opened in 1990 and, at a staggering cost of $1 billion, stood proud as the largest casino in Atlantic City. But, as time went by, things turned sour. This is the fourth time that the company has applied for bankruptcy following episodes in 1991, 2004 and 2009. Donald Trump reportedly became frustrated with bondholders after a failed attempt to buy the company and as a result threatened to take legal action to have his name removed. Evidently, he is a man that makes good on his threats.
In a statement Donald Trump looked to distance himself and his name from the way the establishment is currently being run:
"I am saddened to see that the current managers and owners of the Trump Plaza and Trump Taj Mahal were unable to operate these properties to the highest standards of luxury and success as required under the licence agreement and consistent with my name and reputation," he said. "Because of constant defaults of the standards stipulated in the licence agreement, I had no choice but to terminate the licence agreement and require TER to remove the Trump name from both buildings."
The company is indeed in a sorry state. The latest showings indicate that it has accumulated an unenviable $1.74 billion in debt, and there is no real indication that things are going to turn around. Increased competition from New York and Pennsylvania has seen a reduction in day-to-day earnings coupled with the wide-stretching economic meltdown which has had long-term ramifications all over the US. Instead, TER are hanging all their hopes on an investment from associate Carl Icahn.
The Taj Mahal looks set to close in the near future. The Guardian has reported that "Trump Entertainment has said that without significant cost relief from the union, including the elimination of employees' pension and healthcare, and an injection of $100m from the billionaire investor Carl Icahn, it will close the Taj Mahal on or before 13 November." This impending deadline could be the final straw.
In fairness to Mr Icahn, a fair amount of leeway has already been shown to TER. The company has spent over $10 million which Icahn was within his rights to claim back, but didn't. Whilst Trump became irritated at the running of the company and his reputation suffering as a result, billionaire Icahan has shown a patience and willingness to help provide the company with one last throw of the dice, as Peg Brickley of the Wall Street Journal reports:
"Monday's loss adds to the precariousness of the situation the company faces, as, short of cash, it attempts to assemble a package of deals to land $100 million in new investment from Mr. Icahn. Trump Entertainment is bargaining furiously with Atlantic City and the state of New Jersey, seeking $175 million of state aid, while battling growing labor unrest. If the governments come through and the union contract ended, Mr. Icahn has agreed to infuse new cash into the ailing gambling enterprise.
Trump Entertainment lawyer Erez Gilad said Monday the company is 'cautiously optimistic' it will be able to land concessions from the city and state that could aid the turnaround effort."
This will be of little consolation to worried workers of TER. The company has been seeking permission to terminate the policies of some 2,800 workers in an attempt to reduce its liability. A judge refused to do so in early October but did allow the company time to present a case at a later date. Should they be successful this will leave thousands of employees out of pocket, many of whom will have been working at the company for many years.
There are multiple factors working in tandem that have resulted in the casino chain struggling. The venue is seen as outdated by some, with an older customer base that gambles more cautiously resulting in lower incomes. Comparing Resorts to the Borgata Hotel Casino & Spa there is a huge difference; in a recent comparison for monthly intake, Resorts managed just $466,000 whilst Borgata brought home $1.8 million per day. Clearly, it is a slippery slope for TER and, sadly, most of the optimism seems to be without substance.
With internet gaming changing the face of the gambling community as we know it, it is only natural that some of the physical casinos are going to suffer. Whilst there is and always will be a place for casinos in our society, TER is an unfortunate victim of circumstance and neutral observers note that there seems to be no way back for the struggling casino.