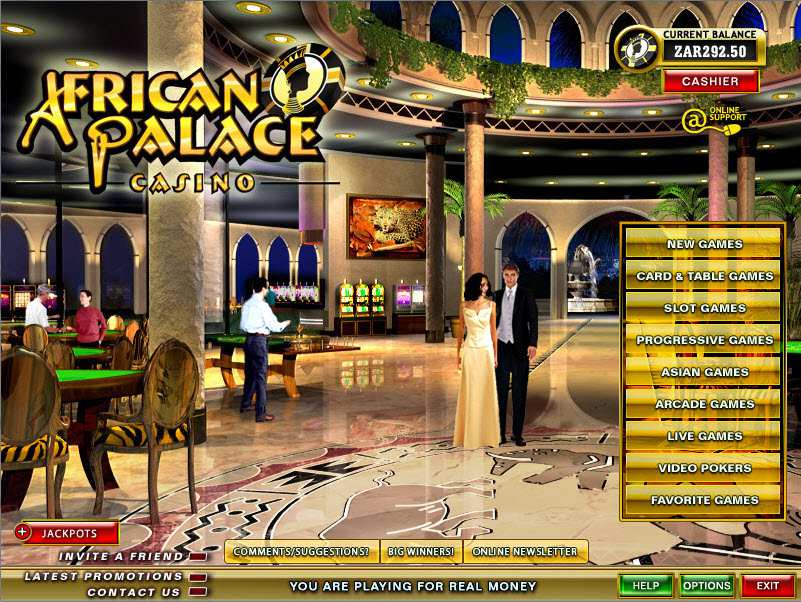 Even making national TV in South Africa, a watch-dog group tried to topple African Palace Casino when they only partically paid a multi million rand prize winner.
African Palace Casino, while flashy and seemingly reputable to players has had a long history of deceit and outright theft in paying players who have violated none of their own terms and conditions. African Palace is the judge, jury and executioner when it comes to claims against them. This rogue online casino, which players reported problems with over a decade ago is still in operation today.

Company History and Ownership
We're not exactly sure when African Palace Casino opened their doors, but the africanpalacecasino.com domain name was registered in October, 2003. A CasinoCity.com search tells us that African Palace Casino is owned by Vestfin Ltd.[1] Vestfin Ltd is located in London, England and owns two casinos African Palace and Indio Casino. Both casinos are Playtech powered and are licensed in the Netherlands Antilles.
Instant Payout Complaints
Within one year of opening, African Palace casino already had issues with payouts. A Casinomeister thread details the problems for the young online casino.[2] In just over a year in operation, African Palace was already late 6 weeks on a five figure payment. In what becomes a theme at African Palace, support is unresponsive to emails from both the player and Casinomeister representatives that are trying to help solve the problem.
Another Casinomeister thread from 2006 details more of the same.[3] By this time, Indio Casino and African Palace Casino had been marked as rogue online casinos or black listed by most sites. A player is upset about a $300 Neteller payout taking too long. Another poster suggests he will never get it, and one bemoans that, "I have been waiting to get paid for years."
Big Win, Small Payout
Over the next few years, players report getting stiffed by African Palace Casino and their sister site Indio Casino. Even after settlements have been reached for large six figure wins, ones that the casinos only have to pay players several thousand per month – they are continually broken by African Palace and Indio Casino.
Meeting Bonus Requirements Not Enough to Get Paid
Another Casinomeister thread details a poster's issues with an African Palace Casino bonus promotion.[4] After accepting the casino's bonus offer and successfully meeting the bonus requirements and profiting apparently $1,600 he received an email from African Palace Casino.
African Palace claimed the player was not taking part in the promotion with "the true spirit" intended. They also stated the player had done the same thing with another "affiliated casino" and that their free promotions are aimed at loyal and regular depositing players.
Apparently, according to African Palace playing thru the minimum bonus requirements and then withdrawing violates their terms and conditions. The email stating the player had done this at Indio Casino or another affiliated casino was also untrue.
This type of tactic is ridiculous. Players either clear the bonus requirements or they don't. Yes, some wager more after they release their bonus fully, some end up winning money and some do not. African Palace is simply upset the player won money after clearing his bonus and has now voided the winnings due to bogus claims. The 11 page thread is full of other players complaining about African Palace and lamenting about payouts that are two years old.
Unpaid Jackpot
In what is one of the worst injustices in online casino history, African Palace Casino made national news in South Africa when they failed to pay a player who hit a $8.5 million Rand Jackpot. In this Casino Listings article, the 66 year-old woman Marie Van Wyk details her problems with African Palace.[5] After they had fallen behind on payments on yet again another big withdrawal, Marie became upset and was told by Denver Chetty an executive at African Palace that she would not be paid.
He said: "Listen, I don't like your attitude. You're not going to get a cent of your money anymore. And you can go the papers, and you can go to your lawyers because we're an overseas company and they can't do anything to us."
Wow. Sadly, he was right. Since they were based overseas and the legality of online gambling in South Africa at the time was a grey area, there was nothing Mrs. Van Wyk could do to receive her funds. Hilariously, Denver Chetty even tells her she will not be getting anymore of "your money" implying the company does not mind stealing players' rightful winnings.
As the media caught when of the story they visited a Durban office that was supposedly African Palace's, but were attacked by security guards and one of the journalists had their camera broken.
African Palace has not made good on the jackpot payment to Marie Van Wyk, paying her only a small percentage of the jackpot win. Unlike other scam casinos that cite dubious loopholes in their terms and conditions as reasons to void winnings, African Palace flat out stole the money from a jackpot winner. They gave no justification for doing this, except that the player had a lousy attitude about wanting to be paid on time. How pathetic.
Re-launch? New Ownership?
Curiously, there were reports of a buyout of Indio Casino and African Palace Casino in late 2011. Affiliate Guard Dog actually listed their affiliate program, Commission365 as reputable affiliate program. However, after finding a thread in the forums of Affiliate Guard Dog, it seems ownership has not changed.[6] Many posters in the thread cite the nonpayment of the jackpot and one poster was told that by employees at Commission365 that ownership is the same people that ran African Palace Casino.
African Palace Today
As of February 2013, African Palace Casino, Indio Casino and the Commission365 affiliate is still operating. There appears to be fewer and few payout complaints regarding these casinos, but they have still not been taken off online casino blacklists and are listed as rogue online casinos at most industry watchdog sites.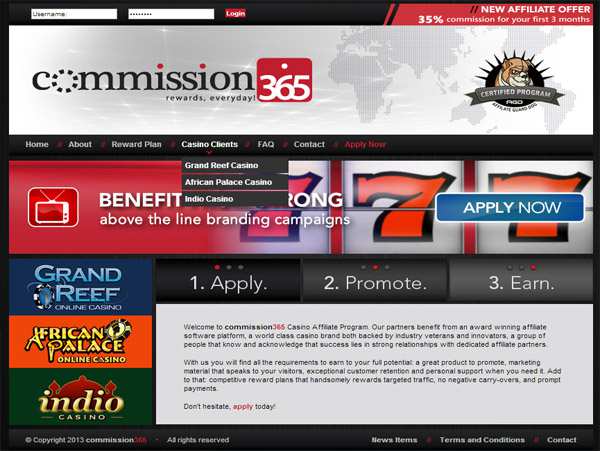 Commission365 website which pays affiliates for promoting African Palace Casino Indio Casino.
Also, it appears they are still under the same ownership that has been screwing over players for nearly a decade. We would avoid African Palace Casino, Commission365 and their respective properties. Even if, they have turned the corner, it is not worth the risk. There are loads of online casinos with much better track records. Avoid these criminals.
[1] African Palace Casino  – Casino City
[2] Indio Casino/African Palace Casino Payment Complaint – Casinomeister Forum
[3] African Palace Casino – Casinomeister Forum
[4] African Palace Casino STOLE my money – Casinomeister Forum
[5] South African TV show pursues rogue African Palace Casino – Casino Listings
[6] Welcome Commission365 as an ABF Certified Program – Affiliate Guard Dog Forum