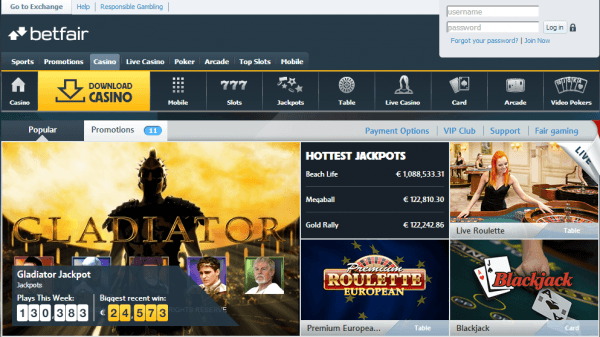 Despite it's stellar reputation, Betfair did drop the ball on this one and rip off it's customers.
We never thought when we begin writing about recent casino scams that the online betting exchange Betfair would be one of our topics. Highly respected and one of the top rated sports betting sites on the web, Betfair's reputation changed forever with a three hour casino bonus.

It's important to note, that players from Lithuania cannot access Playtech casino, bingo, and poker games. They will still be able to play sports and live casino through Evolution Gaming and other software providers.
The Hype
The offer made its rounds around the internet as gamblers and sports bettors – and we're assuming anyone who enjoys free cash was ready to take advantage. The rollover of 10x was quite generous compared to other casinos rollover rates, and the fact that players could deposit an infinite amount of times during the three hour period was what made it even more lucrative. This was perhaps the best bonus offered in the history of online gambling!
Unlimited Casino Happy Hour!
As everyone could have guessed – except for Betfair perhaps – bettors from all over the world headed to Betfair to take advantage of the promotion.
No one is sure how much Betfair lost in this promotion, but it was surely at least several hundred thousand pounds. According to Sports Trading Life[1], most bettors seemed to be "…making a few hundred or even few grand from this offer!" No one truly knows how much damage this promotion did to Betfair's coffers, but we're assuming some casino and marketing department employees lost their jobs!
The problem now was that Betfair realized their mistake and what they did next was shocking for a site of their calibre.
Unlimited Bonus? = Account Locked
Shortly after the bonus ended, Betfair began banning and locking players out of their accounts and confiscating the winnings. A Casinomeister thread appears shortly after the bonus and players are up in arms about Betfair's ridiculous tactics.[2]
Player accounts were locked, and the deposits were deducted from accounts that used the bonus and winnings were also purged. Cash outs of pending bonus wins were not processed.
What was more shocking is that Betfair was punishing some players by only confiscating their winnings and not refunding the losses that the players incurred while playing at the casino! So, they could be down a lot of undeserved money depending on how many times they used the unlimited bonus. What a joke!
Even players who deposited just once or twice during the three hour period had their winnings confiscated, as well. Not just the people who deposited many times and earned thousands off the promotion.
Betfair released an email to players stating they had to suspend some accounts due to irregular and unusual gaming and deposit activity.
Betfair then stated: "Certain customers attempted to profit from the promotion through adopting gaming patterns and activity in contravention of Betfair Casino's Standard Terms and Conditions. As a result, we have withheld both bonus funds and winnings derived from such activity on those customers' accounts, of which yours is one."
Betfair's terms and conditions are worded so vaguely that the company seemed to have free reign to enforce whatever rulings they wanted on these suspected bonus abusers. These players apparently acted "against the spirit" of an UNLIMITED bonus opportunity. What is amusing is how similar this was to many bonus offers Betfair has offered in the past (all of which they honored). Of course, without, the unlimited bonus clause.
Bonus Abuse?
Betfair claimed these took advantage of the promotion and did not deserve to keep their bonus. We see it differently – someone at Betfair made a gargantuan mistake. Betfair simply did not realize the error in their ways when they offered this on such a grand scale. A promotion like this not only would wake up the recreational gambler, but professional gamblers from all corners of the globe would be jumping on this offer – and their friends would be too.
This was not a normal promotion. This was free money being handed out – and everyone knew it. All winnings and bonuses should have been honored. The players who participated in the promotion did not break any rules.
Betfair's Reputation
Many online casinos offer promotions that sometimes go awry. In the past many sites smaller than Betfair ate the money on the promotion and did not take it out on the players. Betfair chose the other route.
A Gambling Portal Webmasters Association thread clearly angered many webmasters who blacklisted the company.[3] A once formidable outfit had fallen from grace quickly after the way they handled this dreadful promotion. Many of the webmasters and affiliates just wanted a public response from Betfair, but the company stood quiet and never did address the issue. In fact, they avoided the issue all together and primarily did their best to keep it out of the spotlight.
Betfair Today
Betfair had several other hiccups since this incident, but are still a widely used betting exchange and online casino. Most of the sites that previously blacklisted them now have them rated highly. All seems to be forgotten. Sportsbook Review, a premier watchdog site for online sportsbooks has the betting exchange rated at A-.[4]
To us, it is still clear that Betfair plays by their own rules. Even after the unlimited bonus incident, there have been many other complaints with Betfair's questionable business practices. Do they still pay players in a timely manner and honor most promotions? Yes, they do.
However, one must remember that Betfair has proven they can rewrite their own rules whenever they see fit and players will have little to no recourse when it comes to getting their money back.
[1] Betfair Casino Happy Hour Scandal – Sports Trading Life
[2] Betfair Bonus Fiasco – Casinomeister Forum
[3] Can someone from Betfair address this situation… – Gambling Portal Webmasters Association
[4] SBR Review: Betfair – Sportsbook Review