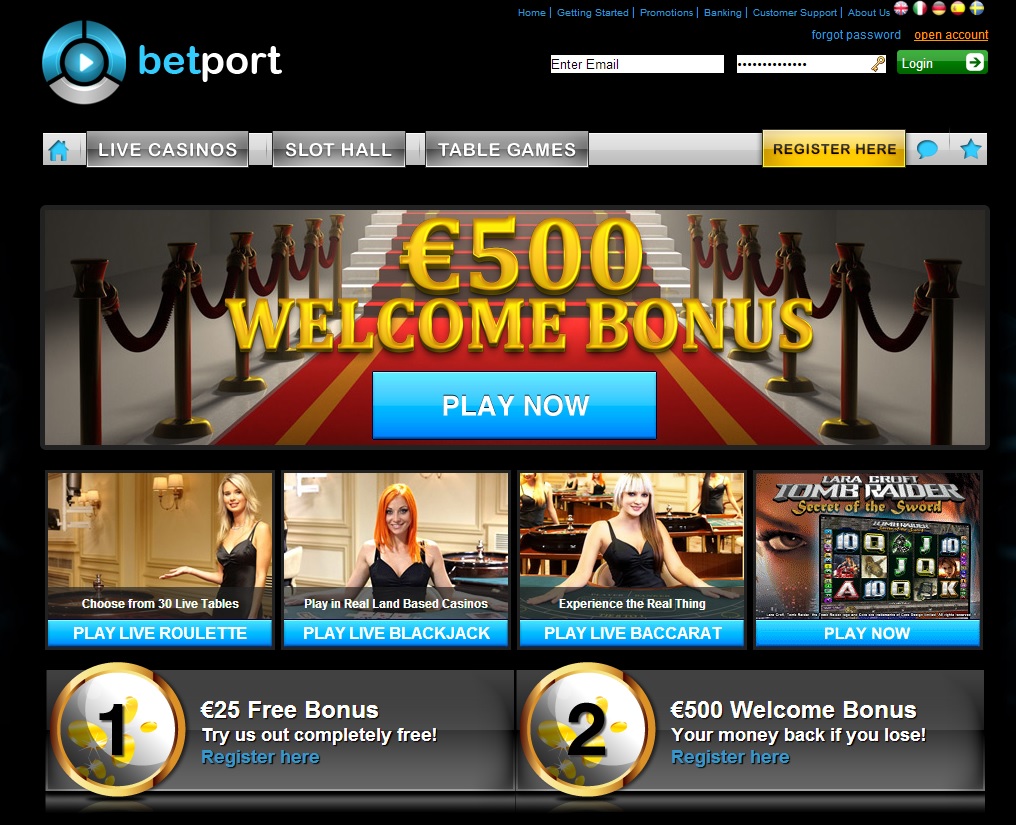 Not all scams have a shady looking website. The BetPort design looks slick, professional and impressive. Pity to waste such a design on this outfit.
BetPort Casino has garnered a lot of warnings over the past several months from online casino watchdog sites and forums. Like many casinos that are run by unscrupulous operators, the site's appearance looks to be one of a top tier online casino.
However, beneath the surface is an outfit that is running without a license and has increasingly confiscated player funds without warning or valid explanation.

Tons of Offers
We can't blame bettors who get suckered into depositing at BetPort.[1] They offer a €500 Bonus for new depositors and work with a number of the top casino software companies in the world. BetSoft, Microgaming and Evolution Gaming are all advertised on their homepage as partners at BetPort. In addition, they offer a loyalty program and separate bonus for their live casino customers. Like many scam outfits, BetPort's support is excellent up until the time that players request a withdrawal or have a dispute with management. Still, they offer email, phone and live chat support.
According to their webpage, BetPort was founded in 2008 and promises players "A Superior Selection of Online Casino Games from the Best Gaming Software Suppliers in a Safe, Entertaining and Attractive environment."
BetPort is a property of EMoore N.V. which is located in Curacao. Little is known about the online gambling company other than that they also own LoveLotto.com.
Suspended License
As Casinomeister reports in June 2013, BetPort is not only closing accounts, confiscating balances and ignoring inquiries by players, but their LoveLotto.com site is operating with a suspended license.[2] [3] If you look at the address and company name on the suspended license of Love Lotto, it has the same information that is on their Curacao license for BetPort.[4]
BetPort's license is currently still active with the Directorate of Offshore Gaming, but one wonders how long until it is also suspended, especially with their current state of affairs.
Licensing and regulation are essential to the safety and integrity of the games at an online casino. While some online gambling sites without licenses may operate fairly, the vast majority of reputable outfits have gaming licenses.
It is especially strange and concerning for a casino that garners most of its players from Europe to not have solid licensing credentials. BetPort does not accept US players, so they are mostly operating in regulated markets or those that have a legal grey area. For that reason, licensing should be relatively easy to qualify for if they are an honest and reputable outfit.
But, if players read more of the Casinomeister's Rogue Pit post, they will see that BetPort and their various other sites are not reputable. Their rogue status is well deserved.
Confiscated Balanced: No Explanation
BetPort's actions over the past year have them mired in scandal. The worst part about these issues is the way that BetPort is going about their funds seizures. They are confiscating player balances and closing accounts with little or no explanation.
When players inquire about the reasoning for the closures or fund seizures they are either given vaguely worded, non-specific responses or are wholly ignored.
A GamblingGrumbles.com post details one experience a player had with BetPort Casino.[5] BetPort voided his €8860 in winnings because other customers from the London area deposited and bet in a similar pattern within a few hours of his deposit.
BetPort even states that the player and these other customers were not linked by the same IP address and have provided no hard evidence or specifics to verify this claim. Also, London is one of the largest cities in the world, so it should not be shocking for several players to deposit from the city within a few hours.
It is also worth noting that the deposits were likely of a similar amount due to the deposit bonus offer that was a part of BetPort's recent promotions.
BetPort closed the player's account and confiscated his funds, but made it clear that he had not yet done anything wrong, and he was under "investigation." Thankfully, the casino did refund the player's original deposit but still held onto his rightful winnings.
BetPort's management never did finish their "investigation" but gave several reasons for the confiscated of funds. As reported by Gambling Grumbles, BetPort's response:
"We based the decision that this customer is not a genuine recreational player on the following factors"
Several accounts were opened in a short space of time that behaved in a similar way
The first deposit was grossly above our average first time deposit
The betting pattern is not that of a genuine recreational player
Again, these are non-specific generalizations of the allegations against the player and are not even remotely a justifiable reason to confiscate nearly €8000 in winnings.
As the Gambling Grumbles' article also points out, even if the player did tell his friends about BetPort's bonus offer and they deposited similar amounts and even bet on the same games – we still would not be convinced that they broke any rules. However, there is no evidence that this even took place.
Online casinos offer promotions to get players to deposit in their casino. They also have affiliate programs for the same reason – to entice players to deposit in their casino and hopefully profit. That is all well and good, but when players actually win, casinos need to pay them.
BetPort is happy to offer a large assortment of games and deposit bonuses, but when someone parlays these into a big payday, all of a sudden they aren't "a recreational player." There is almost no basis for these allegations.
The complaint was also discussed at AskGamblers.com and the casino posted the same response they gave to Gambling Grumbles.[6] The player again voices his displeasure with the situation and who could blame him. He has been cheated out of thousands in legitimate winnings.
He received promotional emails from BetPort with the deposit bonus information. The player did nothing wrong in this scenario, but BetPort decided to steal from him anyways. There's nothing he could have done differently to save his funds. BetPort was simply screwing him over, but trying to validate their theft.
Let's be clear, there is no difference between outright theft and the actions committed by BetPort's management in this case. These guys are criminals.
For Now, BetPort Stays Open
BetPort.com and BetPort.net are still active and have a valid gaming license from the Curacao government – at least for now. This is likely to change as their scams become more prevalent and well known in the online casino community.
We would not be shocked if BetPort became one of those "deposit-only" casinos within a year or two or ceased operations all together. The writing is on the wall with their poor managerial decisions and confiscation of fairly won winnings.
Steer clear of BetPort and their sister lottery site, LoveLotto.com. We doubt this is the last time we hear about this group of rogue outfits, hopefully the next news we hear will be the announcement of their closure.
[1]  Url for the rogued online casino. – Betport.com
[2] BetPort Casino – Rogue – Casinomeister Forum
[3] AntillePhone License Verification – Status: Suspended – Government of Antigua
[4] AntillePhone License Verification – Government of Antigua
[5] Ignoring the big question – Gambling Grumbles – BetPort Casino
[6] BetPort Casino Refuses to Pay €9,500 – AskGamblers.com