BLR Technologies is a gaming software company that is based out of Costa Rica. They specialize in casino, sports and racebook software for online sportsbooks and casinos. In late 2011, some truly intriguing anomalies begin to appear in their software.

BLR Tech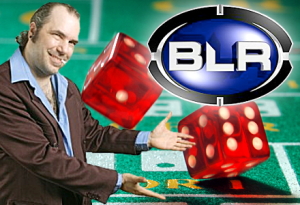 BLR Technologies was founded in 1999 and can be found on www.blrtech.com.[1] BLR boasts that they are "a world leader in gaming operations." This could not be further from the truth. Their webpage has not been updated in quite some time. Their copyright information is four years past due.
We took a look at the software, as well. During some play money trials, the games looked extremely poor graphically and had errors in the start up and during game play. Nothing too serious, but it was clear this gaming software was decidedly out of date.
Rigged Craps?
Despite BLR's poor looking software, many online casinos and sportsbooks used it as their online casino platform. There were few issues with the company or client, and they were relatively unknown to the general public.
However, in October, 2011 a player posted on the Wizard of Vegas Forum in which he detailed a complaint against World Wide Wagering an online sportsbook, casino and racebook.[2] The player alleged that he was being cheated by the company and/or betting software.
The player was winning at around 50% and suddenly began to lose all of his wagers. Inquiring with support about the issue, he was told he was "just running bad." The player began to document his claims and found that out of 3200 decisions, he lost 2347 and won just 843. The user also posted nine videos on YouTube showing his play during these sessions.[3]
The Wizard of Odds took on the player's case and decided to test the software for themselves.[4] Michael Shackleford, the site's owner recorded a video and bet 328 pass line wagers in Craps. His results were staggering. The software was clearly rigged against to produce a less than negative results for players.
Using a chi-squared statistic, it was clear that the BLR Technologies was rigging the possible outcomes of each roll. The bets were nowhere near random and the outcomes were clearly influenced. The results produced were chiefly impossible, and the probability of results this far off expectation was more than 1 in 6,000,000,000,000.
The Wizard of Odds' win rate was very close to the 25% win posted by the user in the forum earlier. The Wizard of Odds posted a win rate of 24.70%. The fair probability of winning a pass line bet in Craps is 49.29%.
Another gambling expert, Dr. Eliot Jacobson performed his own tests on the software and posted his own the Wizard of Vegas Forum.[5] His results were even more staggering and improbable. It was clear that the game's results were way out of any reasonable expectation and were being robbed by BLR Industries.
Industry Reactions
BLR Casino Software was being used at a number of prominent widely respected sportsbooks. 5Dimes, World Wide Wagering and Legends Sports all used the software for their casino play.
5Dimes immediately refunded Michael Shackleford's testing results for his Wizard of the Odds article. After giving BLR Technologies time to respond to these concerns, 5Dimes found that there were no answers for these skewed results. Before long 5Dimes had removed BLR software from their site.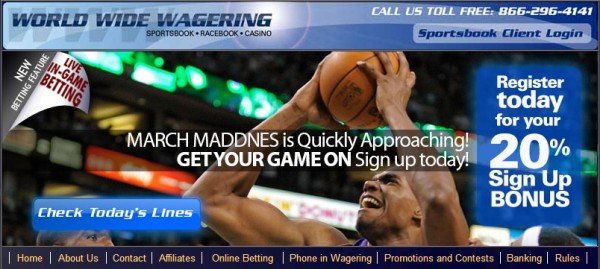 World Wide Wagering refunded the casino losses of the poster who originally caught wind of their rigged software. However, they refused to remove the software from their website and offered no comment on the problems found in BLR software.
The Pittsburgh Tribune Review picked up the story, as well.[6] In the article, a Legends Sports representative says that the casino software used at Legends Sports – though still BLR Technologies – is fair. Apparently, the company replaced all the random number generators and spent time and money to make sure they worked with BLR software. However, Legends never did agree that the studies performed by the Wizards of Odds were correct.
More Information
All of these sportsbooks are highly rated by industry experts and are top online sportsbooks for players from the United States.
As we looked closer at Legends Sports, we notice they use betting software by BLR technologies in addition to their casino. It is hard to label Legends Sports a pack of crooks, because they do consistently pay players via their sports betting operations and have assured player that their casino is now fair. Still, it is hard to take their word for it as they did little quell fears with players.
World Wide Wagering is the least known of the three books but still is regarded as a decent sportsbook for players worldwide. Though they refunded the player who lost playing craps, they had no comment regarding the BLR software and have made no changes to their casino software.
5Dimes is the only company they remove the software all together.
Should players avoid sites using BLR Technologies Casino Software?
If they want to play in the casino of that particular site then the answer is obviously, yes. However, if players want to bet sports or horses with a top rated sportsbook and are not interested in casino betting – we see no problem with using online sportsbooks that use them for casino software.
Still, a site that continues to use casino software that was clearly shown to be rigged by multiple sources poses some questions to their integrity. After all, only craps was proven to be unfair to the players. No other games have been tested. No one genuinely knows how vast the cheating is at BLR Industries. Avoid casinos using their software at all costs.
[1] BLR Tech, Entertainment Business – BLR Technologies Inc.
[2] Impossible 843 of 3200 wins – Wizard of Vegas Forum
[3] Clempops2 Channel – YouTube
[4] BLR Technologies Software Warning – Wizard of Odds
[5] Teliot Post about BLR – Wizard of Vegas Forum
[6] Study says software cheats players at 2 online casinos – Pittsburgh TribLive