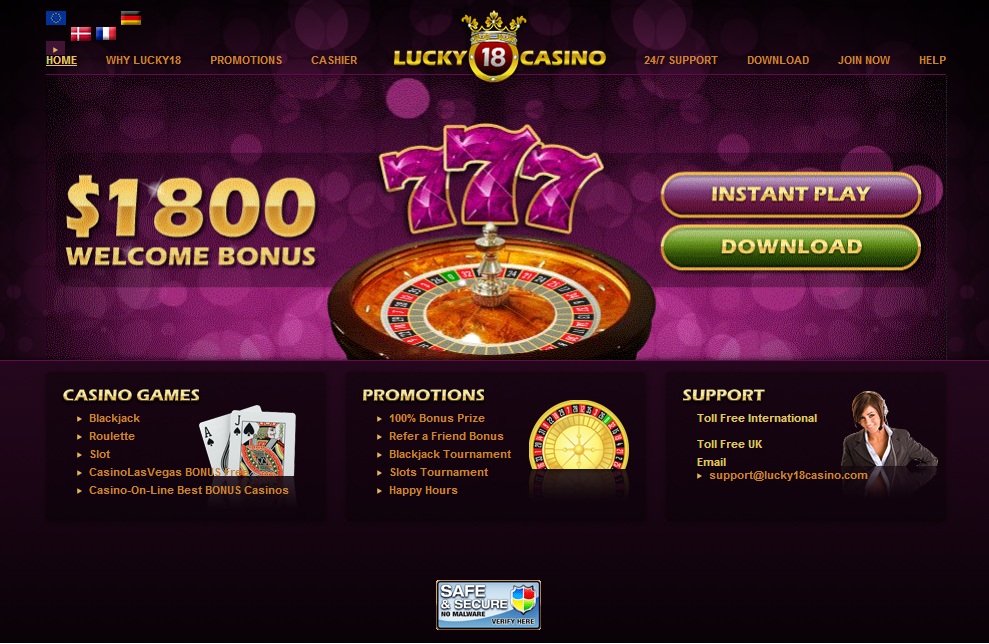 While other rogue operations only exist for a short period, Lucky 18 Casino somehow had players depositing for years until their demise in 2012.
Lucky 18 Casino was an online casino that was operating out of Costa Rica that had a host of problems when it came to running their business. Most importantly, they were not paying their players. A quick Google search of "Lucky 18" will return a long list of complaints from players across various sites. This casino was a pro at making players jump through hoops to receive a payout, delaying it for months – and sometimes not paying at all.

Rogue Status
Lucky 18 was almost immediately given rogue or blacklisted status, after the opening of the online casino 2008. Watchdog site Casinomeister designated Lucky 18 Casino as a rogue outfit in November, 2009.[1] They cited too many complaints from players, slow paying players or in some cases not paying at all.
One can see that the page is littered with complaints of all kinds, but they all seem to have a common theme – nonpayment of winnings. Players again and again are promised prompt payment from Lucky 18, but when the time comes for the payment to be made it never seems to go through.
In one instance, a player received a free $60.00 gift to his account, ran up the balance to $1,300 and requested an express overnight withdrawal. It took two weeks for the "overnight withdrawal" to be approved by Lucky 18 management, and when the player inquired about the long wait for his payment, he was told he would receive payment in two weeks. A manager then told him that $60.00 he received was not a gift and debited his Neteller account which caused an overdraft on his personal bank account!
The complaints list is nearly endless. Players are often forced to wait for months for any sort of payment, and this is after aggressively speaking with Lucky 18 staff and management. Forcing players to provide many different forms of verification is a standard tactic for rogue casinos.
While it is necessary to verify the identities of players, strangely all these document requests from these casinos seem to come after the player wins and requests payout. Then, they seem to drag out into weeks and then months, and sometimes management "loses" these documents delaying the process even further.
Their live support has even told players that they will simply have to "wait a while" for their withdrawal to be processed.[2] No reputable casino would offer such vague time frames and toy with players' money which was won fair and square.
Casino Scam Longevity
In most casino scam articles that we cover; the casinos can usually keep it up for just a few years if they are actively not paying players and have a long list of slow-pays. They probably are not too business savvy to begin with, and damaging press severely cuts into their business. Lucky 18 has bucked that trend as players continued to deposit up until the casino closed. Even as late as September, 2012, players were still giving this casino money, all the while they pulled the same scams they did five years ago.[3]
It's astonishing that these rogue online casinos can still attract players after years and years of theft and lies. Even though, there were warnings on nearly every large casino forum and accredited watchdog sites, Lucky 18 was still attracting unsuspecting gamblers.
Casino Closure
According to a number of sites Lucky 18 Casino went dark at the end of 2012 and have run away with the player funds left in the accounts. Due to their large no-deposit bonuses, this number may seem larger than the amount that was actually deposited. Nevertheless, it is still theft by Lucky 18's management.
Lucky 18's webpage at www.luck18casino.com is still up, but all the links are dead or link to another casino, Grand Parker Casino. This online casino seems to have payment issues, as well. However, so far no one has linked the two casinos, but there is still plenty of suspicions. In this Casino Deal thread, a mod said that "Kathleen" of Grand Parker Casino emphatically denied that the two casinos were associated. The jury is still out.[4]
[1] Lucky 18 Casino – Rogued – Casinomeister
[2] Lucky 18 Casino not honouring $2,000 withdrawal – GPWA
[3] "Don't play at Lucky 18 casino they don't pay" – Casinomeister Forums