Oceans Online Casino are one of the lesser known scam operators online; nonetheless they have consistently been ripping off players for a number of years as they have somehow managed to fly under the radar of most casino watchdog dogs sites.

Little History
A quick Who Is Domain Search tells us that OceansOnlineCasino.com was originally registered in June 2004[1], though we couldn't find any reliable data on when the site first went live.
There is little information known about the Oceans Casino owners or their company history. The domain is registered to one Steve Everitt who has an address out of Vancouver, Canada. Again, we're not sure if this is a real person or an alias. They appear to be an independent company with no other affiliated casinos and are a part of the little known Freshplay network.
Flashy Site, Key Details Missing
Oceans Casino has an elegant looking homepage and an assortment of promotions for players who sign up. They offer players a VIP Program, 10$ free without depositing and a 100% Bonus up to $100 on a player's first deposit. The room uses G-Fed casino gaming software and has a ton of gaming options including a large list of progressive jackpots. They even offer online poker. To add an even greater air of authenticity, the site is translated in over a dozen languages.
However, if players look closer there are plenty of worrisome aspects about the Oceans Casino website. Like many scam operators, they have a professional looking room with flash animation and tons of promotions and options.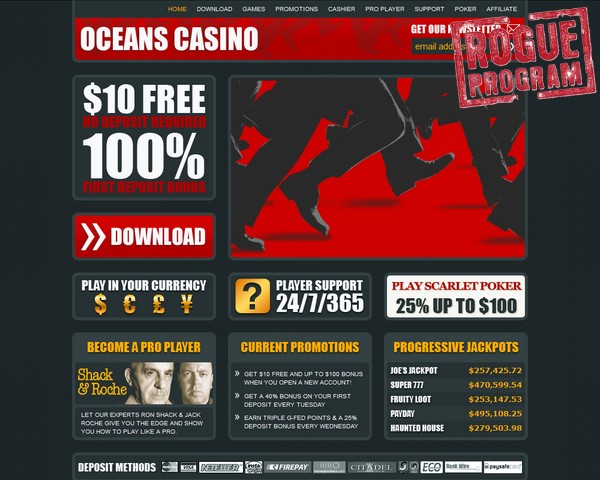 Oceans Casino looks the part, but are a crowd of thinly veiled thieves. We've given them the RouletteOnline.net rogue casino seal.
A closer look into the site's ownership does not tell us much, other than that the room is part of the Freshplay Network, a conglomerate of online gambling related sites.[2] However, it looks as if Oceans Online operates all of their own services, including account management and cashier support and is merely an affiliated site on the network.
The About Us page offers little explanation but uses typical buzzwords, such as "exciting" and "rewarding."[3] Notice how there is no mention of their base of operations, regulation or licensing anywhere on the site.
On one hand, it is nice that Oceans Casino is not lying to players and making up their own licensing information. Many scam casinos lie about their licenses and post seals from accredited regulatory bodies or industry sites, even though they are not legally licensed by these entities.
Oceans Casino does not bother lying to you, (thanks, we guess) but that still doesn't excuse the fact that they operate with no oversight and are not licensed. There is no one independent body or regulator for players to go to if they have a problem with Oceans Casino. A situation that players we'll soon see is all too common.
Funds Confiscated
Since their inception, Oceans Casino had regular customer complaints about cashouts and slow-plays – but in 2010 – the online operator upped their scam game, and ended up on every online casino blacklist.
The worst part about these complaints is the lack of communication by Oceans Online regarding the seizures. The player received no explanation as to why his money was confiscated and had no recourse to retrieve them or prove his innocence.
In January 2010, the player went to the "Pitch-A-Bitch" section of Casino Meister and alleged that he deposited $1,000, received $2,000 in bonuses, and eventually won $7,000. He requested a withdrawal for $8,500 and his was account was locked shortly thereafter. He was accused of fraud and his cashout was denied.
Oceans Casino was contacted several times by Casinomeister and by the player, but they received no response over the course of several weeks and then months.[4] The news was also reported by the Casino Scam Report, who echoed Casinomeister's sentiments.[5]
Casinomeister warned that the site was confiscating player winnings without explanation or recourse, and their customer service inquiries were being wholly ignored.
This entire debacle is a good example of outright theft, plain and simple. To add insult to injury, Oceans Casino kept the player's original deposit in addition to his profits. The player lost not only his rightful winnings, but his original stake, as well. These tactics are among the worst we've ever seen in our casino scam reports.
Oceans Online Today
As of June 2013, OceansOnlineCasino.com is still in operation. While players continue to raise complaints about the casino, the site cannot be getting too many real money sign ups. They are listed on nearly every casino review site as a scam outfit and have made their home on pretty much every online blacklist or warning list.
The room still operates an affiliate program, which we would certainly suggest avoiding if you are an online gambling affiliate.[6] We're not sure if they pay affiliates, but your profits will be tainted with the seized funds of players whose only crime was beating the casino out of money and did not even have a chance to speak with management about the accusations made against them.
Avoid Oceans Casino. They are one of the worst scam artists still operating online. Hopefully, their operating funds are getting low, and players and the industry can rid themselves of this casino once and for all.
References
[1] WHOIS Results for OceansOnlineCasino.com – Network Solutions
[2] The Freshplay Network – Freshplay
[3] About Us Page – Oceans Online Website
[4] Oceans Casino Rogued – Casino Meister
[5] Avoid Oceans Online – Casino Scam Report
[6] Oceans Casino Affiliate Program