Oddsmaker and their parent company FutureBet Systems are one of the most prolific scam operations in the history of online gaming. The company does not just steal from a select few players or just big winners. They steal from everyone. Operating under different names for over a decade, FutureBet's internet gaming websites have likely stolen millions of dollars from gamblers.

History of Deception
FutureBet has hundreds of online gambling sites under many company names. Since their reputation is so horrible with most of the industry, the company is constantly rebranding to find their next targets. Most recently, FutureBet has been rebranded as IGaming Software (IGS) and GameTech Solutions.
Oddsmaker.ag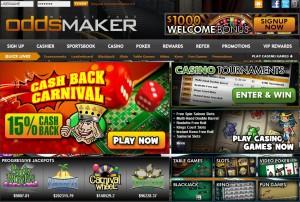 Oddsmaker.ag is their flagship brand for sports, poker and casino betting. A trip to Oddsmaker.ag shows a well designed site with tons of bonuses and betting opportunities.[1] Bettors should not be fooled, once a player deposits into Oddsmaker their money is just as valuable as Monopoly money.
The design, polished graphics and the interface are all paid for by player deposits! Oddsmaker has an unlimited budget because they never pay anyone! Really, they are truly just a front to get players to deposit.
They offer a ridiculous 100% deposit bonus up to $1,000 and a 20% reload bonus every Tuesday and Thursday. They also have tons of free bets and promotions. Of course, this is all easy to afford when they don't pay any of their customers!
Oddsmaker conveniently has 24/7 live chat support. Live chat representatives will help players deposit and proceed to mislead them when they inquire about their withdrawals. Chat reps will tout promotions such as their impressive casino tournaments and VIP Rewards programs. It is all a sham.
Oddsmaker Thefts
With the amount of theft Oddsmaker and FutureBet has perpetrated in their history, we could write a novel on the subject but we'll just over some of their more outrageous incidents.
A player at Sportsbook Review Forum complains of a friend getting third in a blackjack freeroll tournament, winning $2,900 and Oddsmaker refusing to pay him stating he did not meet the minimum hand requirements.[2] Of course, this is a standard tactic from the scumbags at Oddsmaker. Other players in the thread lament about their shady cash out policies and agree that Oddsmaker and FutureBet are one of the worst sportsbook in the history of the industry.
Famously, Oddsmaker stiffed a player for $45,000 in winnings.[3] Enticed by the books tendency to be late on line movements and its $1,000 deposit bonus, he deposited twice and ran up quite a large balance. He then discovered Oddsmakers' past issues and reputation by searching online.
Worried about his balance, he began to middle games with other sportsbooks but was still winning the majority of his Oddsmaker bets. Eventually, he ran his total up to $45,000 after receiving just $4,000 in payouts from the balance. Less than three months after his original deposit Oddsmaker closed his account and confiscated his winnings.
What was the basis for this? Well, the customer responded to a survey offered to him and mentioned he might try to find a lawyer to get his money back faster. Also, according to Oddsmaker he admitted to being a professional bettor and owning a bettor website. According to Oddsmaker this justified the confiscation of $45,000 worth of winnings.
What a brutal pill to swallow for the bettor. The customer vehemently denied that he was a professional player and all his wagering activity was perfectly legal. As of February, 2013 the site have confiscated at least $250,000 from players over the years but the amount is likely much higher.
Still In Business
Oddsmaker and FutureBet entities have been blacklisted at every site imaginable and have a long list of properties that can be found at Casinomeister.[4] Despite, Oddsmaker being known as scam outfit to most of the online gambling world, some players fall beneath the cracks.
A new bettor might stumble upon Oddsmaker's site with its flashy graphics and bonus opportunities and give them a try without doing any research.
One thing that Oddsmaker has to bring players into the site is an affiliate program.[5] They have one of the highest revenue shares in the affiliate in the industry at 50%, and they do pay their affiliates on time on the 15th of every month. Their 50% rev share is likely again due to the fact they scam and defraud players of bonuses and constantly void winnings of players who run up a large balance.
Many affiliates may be ignorant to their schemes, but some are not. They will write up an Oddsmaker review, give them a high rating and bettors will come to the site and take their word that Oddsmaker is an honest book. It is a pathetic way of doing business and ruins the online betting experience for many gamblers.
Steer clear of Oddsmaker Casino and other FutureBet entities. These guys are criminals masquerading as online bookies.
[1] Oddsmaker.ag – Homepage Oddsmaker
[2] SBR Forum Post about Oddsmaker blackjack scam – Sportsbook Review
[3] Oddsmaker Sportsbook and Casino stiff player for $45,000 – Sportsbook Review Newswire
[4] FutureBet Rogue Pit – Casinomeister
[5] Refer Income Homepage – Refer Income Affiliate Program