Planet Kings is easily one of the worst online casinos of the new decade. The experience for players at Planet Kings was so bad in 2013, that they won the title of Casinomeister's Worst Casino of 2013. [1] This is an astounding "achievement," considering there are so many other horrible operators vying for this infamous title.
Most of our casino scams center on US-facing online casino market because of the dicey legal climate surrounding operators, but Planet Kings does not service US players. Most of their clients come from Europe. However, they are strangely licensed in Curacao and use Rival casino software.
You don't get to be the Worst Casino of 2013 with good behavior. Planet Kings had issues under their previous brand; Rey8 Casino and things got worse once they rebranded. There is no excuse for their downright criminal tactics which have cost players likely a hundred thousand Euros or more.

Rey8 Casino
Planet Kings originally went under the brand Rey8 Casino, which was located at www.rey8.com that now redirects players to www.planetkings.com.
Rey8 was a relatively small online casino, Casinomeister and other watchdog casino sites have almost no mention of them unless it is in relation to the Planet Kings merge and/or rebranding. It's clear they did have some players, however.
Online casino watchdog and resource site, The Pogg, does an excellent job breaking down the situation regarding Rey8s and Planet Kings, along with suspected ownership ties. [2]
Rival casinos have had a shrouded history, especially in regards to their ownership. They have a large number of white label skins and network owned skins, but no one truly knows who the faces are behind many of their top brands.
ThePogg pointed out a connection with Planet Kings that we haven't seen anywhere else. They appear to be connected with Gibson and Mayan Fortune casinos through error messages on their previous sites. These guys were caught offering Blackjack with adjusted payouts and are classified as a rogue casino at just about every site online.
Rey8 Casino may have had some glaring flaws, but with such a small amount of information on the casino available, no one knows for sure. The real issues for this brand started when players migrated to Planet Kings.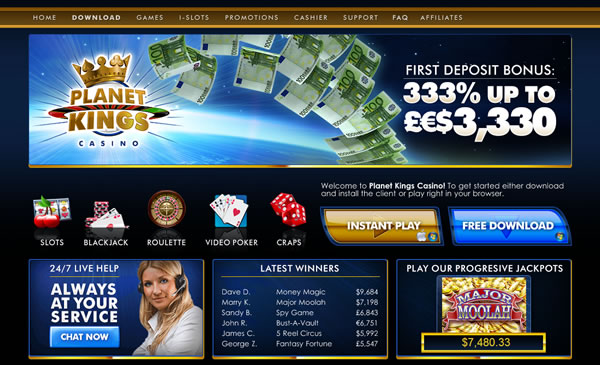 Migration Issues
The Pogg and Casinomeister both had a flood of complaints from players when Rey8 rebranded as Planet Kings. One particular player filed a complaint with ThePogg in late January, 2013. [3]
After going through hell just to get his identification verified, the player is told that all former clients of Rey8 will be moved over to their new brand, Planet Kings.
The player finds that his balance and record of transactions once he is moved over to Planet Kings is not available, and his balance is at zero. The player repeatedly tried to get in touch with support, but they continue to ignore his claims, even via live chat support. He even tried emailing Curacao's online gambling regulators, but again no help.
ThePOGG does their best to intervene on the player's behalf, but is met with no response or comment from Planet Kings. They do their best to contact management or support, emailing them several times and trying to use the live chat feature just like the player, but nothing.
This is dangerous for a number of reasons. For one, management isn't even speaking to players regarding these complaints, a sign that they won't get paid and that the company is trouble.
Secondly, Planet Kings claimed they lost the transaction data of players who were brought over from Rey8. This is sensitive data that should be backed up several times and never lost. The transfer between systems of two different sites is not a valid excuse or reasonable explanation for the loss of this data.
The complaints continued to roll in from players affected from this so called "merger." As of June 2014, these issues have not been resolved. The amount owed to players is unknown but is likely in the hundreds of thousands.
Still Operating
PlanetKings.com is still open for business and accepting players. What went on behind the scenes or who the true owners of the casino are are anyone's guess, but the chances of players receiving their balances in full are highly unlikely at this point.
Players were able to see their balance at Rey8 for a short period of time on the former PlayTech client, but since Planet Kings has moved over to Rival, there is no way for players to view or access this information.
It's sad that players have to rely on sites like Casinomeister and ThePogg to be their voice in these matters. Rival and PlayTech are no help whatsoever when it comes to tracking down these criminal operators. Curacao's E-Gaming Commission didn't even bother responding to player emails.
This just goes to show that no one is safe from potential scam operators, even in the much more highly-regulated international betting market. Avoid Planet Kings and any associated sites.
[1] Best and Worst in Online Gambling for 2013 – Casinomeister
[2] Planet Kings Review – ThePOGG.com
[3] Rey 8 – Nonpayment and rogue behavior – ThePOGG.com