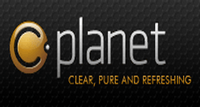 The Rushmore Gaming Group also known as C-Planet was once a highly respected group of online casinos loved by both players and affiliates alike. Unfortunately, they fell out of favor just a few years after opening their doors. Almost overnight the brand turned from an industry leader into a scam outfit that was not paying players and affiliates.

Launch and Early Success
The Rushmore Group was founded in 2007 and based in Curacao in the Netherlands Antilles.[1] The casino's parent company is Rushpod Investments NV. It's believed that the owners of the group are Israeli, as this was also where their affiliate headquarters were based.
Their first online casino was Rushmore Casino which was an out and out success. Building upon the popularity of Rushmore, they then opened two more casinos in the same year; Slots Oasis and Cherry Red Casino. These also began to bring in players and perform extremely well. Many in the industry applauded the Rushmore Group's quick rise to the top. They fast became one of the top brands in the unregulated US online casino market and were heralded for their reliability. At the time all signs pointed towards a bright future.
By all accounts, the Rushmore Group experienced success for its first several years of operations. They ended up acquiring three more online casinos – Slotsville, Pure Vegas Casino and Euro City Casino – in 2011[2] and at that time it seemed like they would be the USA's leading casino group for years to come. Their casinos were profitable, cashouts were fast and marketers and affiliates were being paid their cut.
First Signs of Trouble
A Casinomeister forum thread from July of 2010 begins to spell the first signs of trouble.[3] A player posts about a promo in which Rushmore Casino credited the player a 300% bonus match up to $2,000 before he even deposited to receive the bonus. We also find in the thread that Casinomeister removed Rushmore Group casinos from its accredited casino list in October 2009. A move off the accredited casino list is not a good sign, but the room was still actively paying players and affiliates, albeit, with delays. There was cause for alarm, but it was not dire straits yet for the Rushmore Group.
Still, if players read the thread, casino bettors have plenty of legitimate gripes with Rushmore casinos. Tagging a bonus to a player's account without his approval is fraud. If the player deposits unbeknownst to the bonus being added to the account, he is forced into honoring the wagering requirements before he can withdraw.
Players report being given the run around on document approval for payouts and withdrawals, but if they should bust their account – they are immediately approved! It is amusing how that works out. Also, Rushmore support asked for players' emails and passwords via email to make changes or close their account. Sending sensitive information via unsecured email is not a business practice most reputable online casinos practice.
A Rushmore Casino rep responds to queries and tries to quell players concerns, but does not seem to succeed. Many accusations fly from forum users. From banning Neteller players citing fraud or bonus abuse to Rushmore making cold calls to players to try and get them back in action.
More importantly, the casino was accused of slowing payouts to a crawl and forcing players to jump through hoops to get paid. This is a common stall tactic among rogue online casinos. The casino will often make up excuses or delay the withdrawal hoping players will give back a portion of their payout amount. It was the first ominous sign of things to come.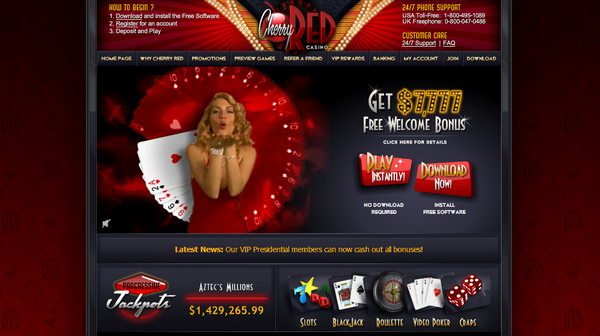 Looks can be deceiving – The slick Cherry Red Casino interface was just a front for another rogue operator
More Slow-Pays
The C-Planet Group conceded they had payout problems in late 2010 and cited processor payments. This would not be out of the ordinary, especially considering that they serviced primarily US customers. Many online casinos faced pressure from the US government and may have even lost funds to processor seizures. However, many other US facing online casinos were facing the same obstacles and were getting players their players funds much faster.
Dozens of threads began to pop up at many online casino forums alleging these slow-pays and misdealing from C-Planet operated online casinos. Management was consistently missing promised payment dates and payouts times were not improving – they were getting worse.
Before many others in the industry realized the ship had been sinking CasinoScamReport published an article in January, 2011.[4] Though they promoted the casinos since 2008, CSR was withdrawing their endorsement of the brand and put the Rushmore and Cherry Red Casino on their black list.
The company still was not listed as rogue by many industry watchdogs, but players were told of the long payout times and that something may be amiss.
Going Rogue
A Rushmore representative decided to post at the Casinomeister Forum and was met with vitriol from players.[5] Despite their attempts to calm player confidence, their stories were not adding up.
The rep cited processor problems and funds seizures as being an issue for not being to pay players in an appropriated amount of time. However, Moneybookers and other e-wallet withdrawals to non US citizens were also delayed substantially, something that made no sense as processor seizures would only affect credit cards and echecks.
Payments to affiliates were also late, and there was also evidence that management was un-tagging players from affiliate accounts.[6] It looked as though the Rushmore Group was in real trouble.
Avoid At All Costs
Casinomeister finally classified the Rushmore Group and their six casinos and affiliate program as rogue.[7] The original article was written in February, 2012 and was again updated in late June, 2012. We got some insight into what had gone on behind the scenes at the Rushmore Group, and it looks as awful as it sounded. Casino management continually lied to players about payout times and the article confirms the suspicions that they un-tagged players from affiliates who worked hard to promote them.
Rushmore Casinos Today
The Rushmore Casino family has gone insolvent and not paid the majority of their players. If players head to RushmoreCasino.com or CherryRedCasino.com they will find the site still up and running, but not much else. Their support phone numbers no longer are connected, and they have no email address listed for contact. The software is not available for download. Despite all this, the casino is still promoting their $888 welcome bonus on every page.
Cautionary Tale
The Rushmore Casino Group is another sad story of what can happen to one of the top online casinos in just a short time. We doubt the owners set out to steal player funds, but through mismanagement and poor planning their company went under.
According to a RouletteOnline.net source, the C-Planet management were extremely lazy and that their downfall was in large part due to this. They also said that player funds were simply stolen. They happily took bets and deposits from losing players and stiffed anyone who won money and tried to cashout. In short depositing money to a C-Planet casino was akin to setting that same money on fire.
As of February, 2013 the Rushmore Group owes players and affiliates hundreds of thousands if not millions in unpaid cashouts and earnings. They are no longer operating, and players and affiliates should not expect to get paid. We will update if the situation changes.
References
[1] Article on Rushmore Casino Group – CasinoAdvisor.com
[2] Cplanet acquires Pure Vegas Group – GPWA.org Thread
[3] More C-Planet complaints – CasinoMeister Forums
[4] Avoid all Rushmore Casinos – CasinoScamReport
[5] Rushmore rep gets blasted – CasinoMeister Forums
[6] C-Planet stealing from affiliates – Affiliate Guarddog
[7] C-Planet rogued – CasinoMeister