Sunny Group is a strange case; one of the pioneers of the online gambling industry the company was founded all the way back in 1981. In fact, Sunny Group claims they were the company to launch the first online casino ever in 1996. After owning a large number of online casinos, the group now owns just a handful of businesses. However, they have clearly fallen from their once innovative and reputable status. They are now lacking in customer service and may be in financial trouble.

Gambling Company?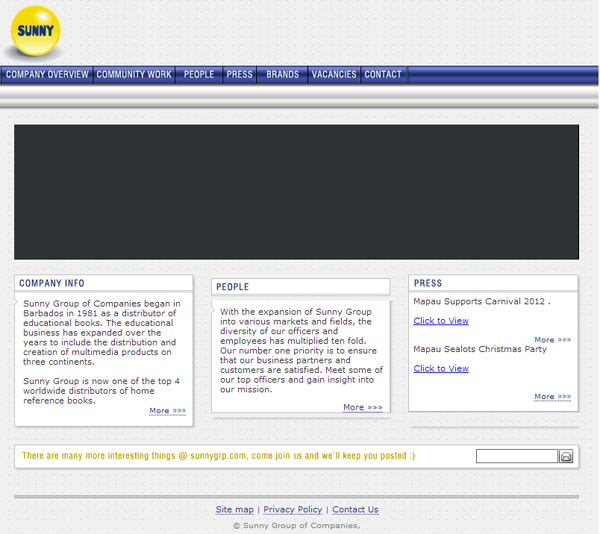 Confusion: Sunny Group doesn't look like a gambling company. Food Services, Marketing and Book Publishing. These must be a really talented bunch – or a bunch of thieves.
A trip to Sunny Group's website made us wonder if we were on the right page. The company apparently began by selling educational books and has now spawned off into many different online businesses.
Based in the Barbados and licensed in Antigua, the company seems to have a wide array of businesses in addition to their gaming ventures. They own a private security company, restaurant and a marketing company. They also boast about their active involvement in the community. We visited the site twice before realizing it was the online gambling company we were looking for. Their casino brands were Mapau, Miami Beach Casino, Casino Fortune and Sun – Gaming. Sun – Gaming dot com and Mapau dot com are still online although they haven't been updated since 2005.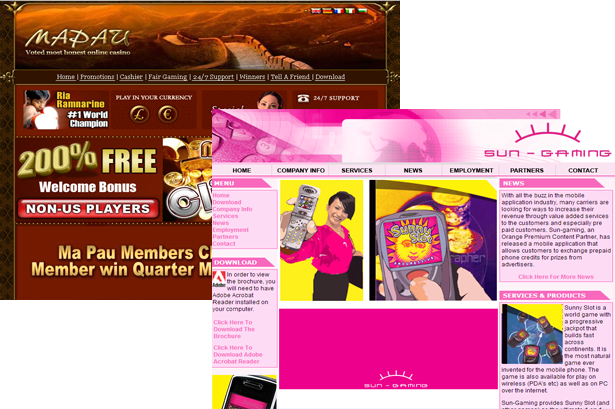 Still online: Mapau and Sun-Gaming webistes are still online – although the sites don't look like they have recent content.
Trouble for a Storied Company
As we mentioned above, Sunny Group was one of the first companies, and perhaps the first company to market a real money online casino to customers.
However, over the last year five or so years, things have gone downhill for the Sunny Group and they have closed most of their online casino ventures. Their customer support and payouts have suffered, as well. They were added to the "Rogue Pit" at Casinomeister in 2006 and have made no improvements to get themselves off the list.[1]
As players can see by the long list of complaints levied at Sunny Group it is easy to see why the company lost trust with players. From slow-pays to no-pays, Sunny Group has a long list of complaints against them. Players report sending documentation for payouts and repeatedly begging for payouts only for them to be months late or not to come at all! Many players state live chat support repeatedly promised to honor payout times, but again were late. There are countless stories of players winning large sums such as $20,000 to only have a quarter of that amount actually sent to them over 6 months.
Endless Spam
Sunny Group apparently bombarded players daily with bonus spam. A Casinomeister thread chronicles the lack of respect Sunny Group has for its customers.[2] Players even report emailing Sunny Group Casinos and politely asking them to stop sending the emails. This, of course, is to no avail as the players continue to get bonus offers sent daily.
Not only that, but players seem dumbfounded by their terms and conditions and did not like their chances of seeing the money even if they did win. We cannot blame them.
Sunny Group Today
Sunny Group's online casinos are all no longer operational even though they are still listed on the company's website as one of their "brands." It looks as if they are finally out of the casino business, probably not by choice. We tried to search for when these casinos closed up shop, but we could not find an exact date. Sunny Group still offers other services, such as personal protection and a gambling marketing firm but operates no online casinos as of February, 2013.
The company reflects a sad reality of many online gambling companies of the past decade. Once a prominent player in the industry, Sunny Group lost the confidence of its players and never seemed to be able to regain their foothold in a market they helped create. Below are screenshots of the two casinos homepages.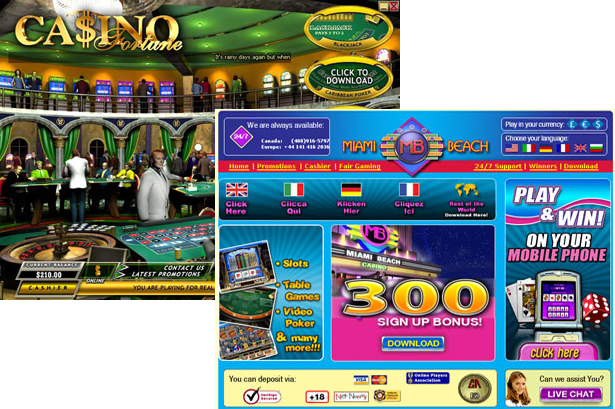 Let's hope we never see these scam casinos up and running again.
[1] Rogue Pit – Casinomeister
[2] Avoid Sunny Group Casinos – Casinomeister – Casinomeister Forum