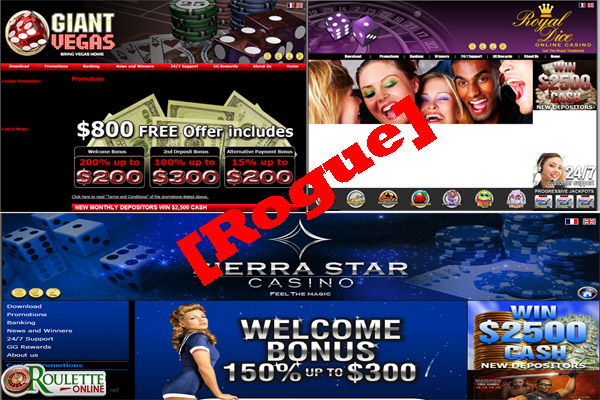 A trio of rogue online casinos. Giant Vegas, Royal Dice and Sierra Star Casino have robbed players of money and still operate today.
As is the case with many of our casino scams, Teller Processing Ltd. starts out as legitimate business, which seems to prosper for a short time, but for whatever reason fails. Some owners just simply don't know how to run an online casino, they lose backing or other troubles emerge.
Honest operators will admit when they fail, do the best to pay their players or accept a buyout to another reputable and profitable casino. People fail sometimes, but the least they can do is figure out the best way to get their players to get paid.
However, this is not always how things turn out.
Teller Processing Casinos have been in business since 1999, but long ago stopped being a reputable brand. The conglomerate still "operates" several online casinos, which have all been subject to payment complaints and poor (none) customer service.
Here are their current active properties:
Giant Vegas Casino[1]
Royal Dice[2]
Sierra Star[3]
It's worth noting that upon visiting Royal Dice casino, our anti-virus software notified us of a Trojan virus. The virus was dealt with immediately, but this may be another way for them to scam or steal from players. Exercise extreme caution when even visiting these web pages.

Rogue Affiliate Program
All of these properties are operated by Teller Processing's rogue affiliate program Red Hot Revenue.[4] A Casino Affiliate Programs report shows that their complaints go all the way back to 2008.[5]
They are guilty of a number of offenses towards their affiliates. From non-payment to ever changing terms and conditions, these guys cannot be trusted. Despite being called out by many industry news and watchdog sites, along with forums, little has been done to stop these guys from preying on unsuspecting webmasters who haven't done their research.
These affiliates are in for a rude awakening when they spend the time to promote the casinos, but then are left hung out to dry when they request a payout.
Shockingly, all of Teller Processing's casinos are run on PlayTech's casino software, but as reported by CalvinAyre.com, one of the top casino software companies in the world apparently doesn't have any power over their licensees.[6] We're not shocked to hear this from PlayTech, who has a dubious record in the past of standing up for gamblers and affiliates. PlayTech could stand up for the players and affiliates in this situation and revoke their software license, but they are sadly only focused on their bottom line.
Licensed in Curacao?
Giant Vegas and their other properties look like your normal run of the mill online casino. They have promotional, banking, and rewards pages all filled with bonus offers and VIP rewards. Of course, these are all meaningless, as players have had trouble being paid from all Teller Processing casinos since 2009.
If you check out the 'About Us' page on Giant Vegas' homepage, they claim that they are "a high level, top-end casino" and are licensed and regulated by the government of Curacao.[7] While at one time this may have been true, this is certainly not the case now.
All online gambling sites must have the Curacao E-gaming seal on their webpage according to the regulator's website, something that is not present on any of Teller Processing's online casino sites. While the casino may have had a license in the past, they most likely had it revoked years ago after they soured their reputation in the industry.
Rogue Casino and Blacklisting
Casinomeister began to warn players about the casino group in 2009, but complaints go back as far as 2004.[8] Complaints from multiple players allege that they deposited and received a bonus, tried to withdraw but were asked for documents multiple times. After complying with these requests, the player did not have his withdrawal processed and was eventually ignored.
Casinomeister's attempts to work out a solution failed. They misled Casinomeister into thinking that they were aware of the complaints and were working out a solution with the player. However, the players involved reported to Casinomeister that they hadn't discussed their withdrawals with management and were being ignored.
While many players had smaller balances, some were screwed out of some serious money. Casino Scam Report ran a news story in October 2011, in which a player was owed $25,000 from Royal Dice, Sierra Star and Giant Vegas.[9] They also reported that all Teller Processing casinos were basically out of business but still accepting deposits.
In fact, their phone numbers and emails were no longer were active. Yet, they happily accepted deposits from players who happened to run across their legion of scam casinos by reading a bogus review.
Speaking of Shills
Few sites had anything good to say about Teller Processing or any of their online casino options, but that didn't stop company shills from posting on forums and other entities from trying to con players into depositing with them. Even in 2013, they are trying to pawn off this casino as a reputable outfit.
AskGamblers.com has a review page for nearly every casino online, including Giant VeGgas.[10] There is a post from May 2013 that details a players experience at Giant Vegas. The player details their time spent playing and talks about the promotional offers and VIP rewards.
The reviewer than states, "I contacted the support team to ask about some details about the promotions and wagering requirements. They proved to be very helpful and nice." Of course, this isn't true, since we know the casinos have not actively manned the support phone lines or responded to emails in two years.
The review then goes on to rate the casino "My ratings are as follows: Software: 8/10 PlayTech, Bonuses: 7/10, Support: 8/10" and then the zinger, "Cashouts: in 4 days I got my money." So, not only are they not paying anyone who happens to win, they are actively using shills to draw more players to their defunct brands.
They Guys Can't Close Soon Enough
When we talk about longevity in the online casino industry, it's normally a complement. In Teller Processing's case it's a curse. We're not sure how the company continues to operate, but somehow they have been luring unsuspecting players into their casinos for nearly a decade. Even worse, webmasters still seem to get lured in by the false promises of their affiliate program.
One would think these casinos would be running on fumes – but if they don't have any employees or service staff – how much can it cost to keep them afloat? A few hundred dollars a month in domain and hosting fees?
Nevertheless, for now these criminals are still active and accepting player deposits.
[1] Giant Vegas Casino – www.giantvegas.com
[2] Royal Dice Casino – www.royaldice.com (Trojan virus may be active, exercise caution)
[3] Sierra Star Casino – www.sierrastarcasino.com
[4] Red Hot Revenue – www.redhotrevenue.com
[5] Red Hot Revenue: Rogue Affiliate Program – Casino Affiliate Programs
[6] PlayTech needs to get on top of Red Hot Revenue Fiasco – CalvinAyre.com
[7] Curacao EGaming – Government of Curacao
[8] Sierra Star, Royal Dice, Nuts Poker, Giant Vegas: ignoring player issues – Casinomeister
[9] Avoid RoyalDice.com and ALL Teller Processing LTD Casinos – Casino Scam Report
[10] Giant Vegas Casino Review – AskGamblers.com