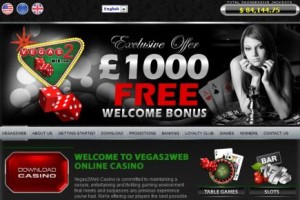 Vegas2Web is an online casino operating on Rival software. Generally speaking, casinos using the Rival software are reputable brands and have some of the best online casino software available. Vegas2Web is not one of these!
Their software is licensed and registered by Black Chip Limited and is governed by the laws of Cyprus. The company headquarters is located in Curacao. They offer services to players worldwide, including those in the United States.
Vegas2Web.com was established in July of 2009 and had no problems with their operations until slow plays started surfacing in late 2011.

Payout Delays
The problems began surfacing in the online forums at Casinomeister in September of 2011[1]. There is a 12 page thread detailing several customers' trials and tribulations with Vegas2Web's support and withdrawal process. Though the players in the thread were eventually paid, the process of getting your money from Vegas2Web seems a lot harder than just pushing the cash out button. Gamblers hounded support and management to get their payouts, and finally after months of practically begging, they finally received them.
Only Rival Casino Still Accepting US Players
Vegas2Web is currently the only Rival casino that still accepts US players and has blamed this fact on their payment processing woes. While, processing payments for US players in today's environment is tough, there is no excuse for waiting three months for a payout. Furthermore, Vegas2Web's international players were also afflicted with longer than normal payouts. This is purely laziness by Vegas2Web management, or a ridiculous company policy, as payouts via MoneyBookers and Neteller are easy to process and with any reputable site, they are pretty much instant.
Many players reported being transferred over to Vegas2Web after other Rival casinos dropped out of the US market. Several casinos, such as Rich Reels, automatically opened accounts for US players on Vegas2Web.
More Complaints
In 2012, things do not seem to be improving for Vegas2Web. As early as February, players began getting slow paid.[2] At the Casinomeister forums – a player had received a foreign check, which he took to four different banks, each of which told the player the check was fraudulent.
In the next several months, a litany of complaints are issued against Vegas2Web. The No Deposit Forum, issues a 'Casino Alert' to customers, and warns gamblers not to play at the online casino. [3]
Vegas2Web's Response
Vegas2Web begins to communicate with some gambling authorities throughout the months of complaints. They state the withdrawal problems are due to "processor related issues", and that the delays are out of their control. Of course, US players may take longer to cash out these days because of laws against online gambling, but 2-3 months? Non us players were still getting stiffed as well, payouts that were promised in 48 hours were taking several weeks.
A player looked for help at AskGamblers.com after an incident with Vegas2Web. He made a withdrawal in May of 2012 for $5000. [4] Even though they had processed several withdrawals for the customer already, they waited 2 months to put the money back into his account and told him that they could not process his withdrawal due to an error! He immediately withdrew the money again after it was put back into his account. The withdrawal still did not work, and he had to get contact them to get it processed. After chatting with support, he was told he would have his funds on August 8th. August 8th came and went, and still no bank wire.
Luckily, this story has a happy ending, after AskGambers' team contacted the management, and the withdrawal was finally fully processed on September 23rd, 2012. The original cashout request was in May, so the player waited five months for payment! All the while, live support at Vegas2Web was telling him that he would have his money much sooner.
Vegas2Web Currently
This online casino is still operating, but at least the word has gotten out that Vegas2Web should not be trusted. Fewer posters are posting complaints about unpaid funds, so finally players are getting wise to their schemes. Still, there are many outstanding complaints for non-payment of funds by Vegas2Web, the latest one being in September 2012.
Vegas2Web is one Rival casino that cannot be trusted. Just because, they have American customers does not mean that they can deceive and mislead players under the guise of payment processor issues. All online casinos that service US players may have some problems with payment options, but they aren't stringing along players for months without payment.
Our advice, stay far away from Vegas2Web.
[1] Casino Meister Forums, Vegas2Web Unnacceptable Delays – Casinomeister
[2] Casino Meister Forums, Vegs2Web Withdrawal Issue – Casinomesiter
[3] Vegas2Web Casino Alert – No Deposit Forum
[4] Casino Complaints, Vegas2Web Complaint – AskGamblers.com