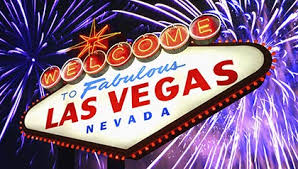 Las Vegas remains the original and most talked about gambling center in the world, although Monte Carlo has offered high-stakes gaming for twice as many years as Sin City. Originally, Reno was the Nevada hot spot, with plenty of casinos and a divorce machine that churned-out newly-single people at a rate higher than any other state in the US; but those days have passed.
Today, Las Vegas has more than 70 casinos, and while Macau may have more gross revenue with just a dozen casinos than the Las Vegas Strip does, nothing compares to the overall color, excitement, and yes, total garishness, of Vegas.
For roulette players, Las Vegas has more games to choose from than any other gaming center, including neighboring states like California and Arizona, which have plenty of casinos, don't offer live roulette. Unfortunately, if you are used to playing European rules with a single zero and La Partage, you may be disappointed by the high-stakes required for those offerings, especially if you play a dedicated betting system that is based on outside wagers like the Labouchère or Oscar's Grind. However, there are several single-zero wheels in town.
In addition, American roulette offers more of a self-serve style game, as players place all their own wagers. Dealers will not be able to accept call wagers, nor will they book and place neighbors, orphans, or thirds.

Las Vegas Casinos
Las Vegas gambling was mostly confined to the downtown area of Fremont Street in the 1930's and early '40's. Clubs like the Golden Nugget, Las Vegas Club, and the El Cortez catered to dusty cowboys and Hollywood types in town for a fling at the tables for two decades before a few enterprising souls risked putting casinos along the Los Angeles highway which became the Strip. It was Thomas Hull who put up the money for the first casino, the El Rancho, but it was "Bugsy" Siegel who got all the publicity after stealing Billy Wilkerson's project, building the Flamingo, and getting gunned down by his Mob "friends" for failing to make their casino a money-maker.
Today, downtown Las Vegas still boasts twelve casinos, all within walking distance of one another. You can book your hotel room at the Golden Nugget or the Fremont, and play $1 roulette all day and all night, or hit the other clubs to try your luck. During conventions and holidays, rooms may be as high as $195 a night, but mid-week deals abound. Rates as low as $29 per night can be found at several properties, and meals are quite reasonable.
You won't find any single-zero roulette downtown, as the area has evolved into a low-stake haven, but if you are working on your system or want a bargain, it's the place. There are free rock shows outside under the canopy and lightshows all night. Expect some drunken revelry every evening.
Inside, girls dance in skimpy outfits at the D Las Vegas and the Golden Gate, both of which offer standard roulette games with limits of $5 outside and 3-chip minimum for color – with those as low as $1. The D Las Vegas has two tables, the Gate just one. At the Nugget, probably the nicest club downtown, there are five roulette tables.
The Fremont and Four Queens casinos offer two roulette tables and the California Club has just one, but early in the morning there is little action – so you should be able to find a seat, and sometimes a limit of as low as 50-cents per chip. Down the street at the El Cortez, variously loathed and loved for low-cost rooms and meals, the casino boasts four roulette wheels, usually with the lowest limits downtown.
Strip Casinos
Over the years, as Las Vegas has re-invented itself over and over, it has grown larger, and several of the clubs on the Strip now have 5,000 rooms and 5,000 slots to go with their large poker rooms and 100's of table games. Of course the larger the property, the larger the bets have to be. You can still find reasonable rooms (and they should be reasonable) at Circus, or Bally's or the Flamingo, and low-limit games. The Flamingo also houses Jimmy Buffet's Margarita casino, and there are nine roulette games on property to choose from. You can expect the dealers to be quick, accurate, and reasonably funny.
Years ago it was "Dummy-up and Deal," in Vegas, but not anymore. The dealers will take good care of you, the cocktails are free, and of course everyone expects an occasional tip. In addition, you can play single-zero roulette at the Riviera, Paris, and the Luxor, with reasonable table stakes. Expect $10 to $25 minimums and limits as high as $5,000 for even-money wagers.
A few other properties like Mandalay Bay, the Venetian, and Caesar's Palace also offer single-zero wheels, but they are located in special high-limit rooms with $25 minimum bets.
European roulette with that enticing 1.35% house edge is offered at Aria, Cosmo, Bellagio, Mandalay Bay, MGM Grand, Mirage, Rio, and Wynn. Most of these games are also in high-limit rooms, but the MGM and Mirage have European roulette games on the main casino floor. Yes, the limit is a pricier $25 per wager most of the time. For variety, the Mirage has 10 roulette tables, the MGM sports 17!
Outlying Casinos
There are many other casinos in Las Vegas that have hotels, moderately-priced meals, and double-zero roulette. While all casinos in Las Vegas have a player's-reward system of complimentary rooms and meals for players, these have the advantage of being inexpensive enough that if you play even a few hours you'll probably be able to substantially reduce your room cost or get it paid for altogether.
All of the Station properties (Texas, Palace etc.) have reasonable table limits, and plenty of gaming. Boulder Station, for example, has more than 50 tables and over 2,900 slots. Roulette tables have score sheets, reader boards, and pleasant dealers. The limits are often $1 with a 4-chip minimum per spin – $5 outside.
Occasionally some of the larger clubs like the Eastside Cannery or South Point will also have low limit games and several roulette wheels, but some clubs, like the two Arizona Charlie's properties, have just one roulette table each.
If you want lots of variety, Vegas is definitely the place to go, and you can still walk to some of the casinos on the Strip, too. Keep in mind that during the summer the temperature is likely to be over 100 degrees. If you want to walk, stay somewhere close to Flamingo Drive, where you can get to several casinos on foot, or stay downtown.
As for the outlying casinos, you may feel quite removed, even if you stay at the Rio or the Orleans, and you'll need a cab or car to get around. As for roulette, there are 464 roulette tables in Nevada, 380 of which are in Las Vegas, so you'll probably find a game to your liking!