Grand Duke is an online casino still in operation that deceived players regularly with suspicious terms and conditions and ridiculous rulings on players clearing bonuses. The casino ran into immediate trouble as soon as they launched and display a lot of the typical "scam tactics" that are familiar with dishonest online casino operators.

Early Signs
Grand Duke opened in April, 2011. The first Casinomeister thread appeared not long after, in May 2011, inquiring about the safety of the online casino.[1] Already a poster claims that Grand Duke has labeled him as a "bonus abuser."
Then almost on cue, a new poster named 'Carin' writes, "I won 3000 in the slot machine a month ago and I didn't have any problems with the payment." A few posts (and months) later, 'Carin' is outed as a Grand Duke shill account in another thread. He or she posted from an IP address located in Israel, and one that was also registered to the Isra-Group.com; the group that owns Grand Duke. 'Carin' was discovered to be active in a number of different threads where players had posted regarding complaints at Grand Duke. She sang the company's praises while others got scammed by the soon to be rogue outfit.
Bonus Scam
Like all online casino operators Grand Duke offered a bonus to first depositors and held other promotions throughout the year for reloads. Grand Duke advertised these promotions heavily and sent many emails to players via their mailing list. However, they were not up front with their terms and conditions, and seemed to selectively enforce these rules based on the profits of the player.
An October 2011 Casinomeister thread details these issues.[2] After playing a slot machine and running up a deposit bonus and balance up to $3,000, the player decides to cash out. Grand Duke confiscates the player's winnings and suspends his account on the grounds that he exploited a bonus offer. What terms did he violate?
According to Grand Duke, the player wasn't eligible to withdraw his winnings because he only completed his bonus requirements on one casino game. The player was even talking to live support during the time he played, and they made no mention of him having to change games to clear his bonus, even though live support walked him through the bonus offer.
We're willing to bet they didn't mention to the player that he had to play multiple games because he was losing at the time. Strangely, when the player decides to cash out after he starts winning, he's a bonus abuser or using a betting "system." Also, Grand Duke not only took this player's winnings but confiscated his deposit, as well.
Reading deeper into the thread, posters cannot seem to find the language in Grand Duke's terms and conditions that support cited as reasoning for confiscating this player's winnings.
Finally, a poster finds it under the Irregular Gambling section of their TOC:
"In order to be eligible for a withdrawal, you must have winnings from multiple games, in which winnings from any single game cannot exceed 50% of the total amount of the withdrawal request."
Woah. So, players not only have to play multiple games, they have to win equally at each game and keep track of the amount won by themselves? Unbelievable! We've read lots of ridiculous bonus requirements at many crooked online casinos, but these terms are shocking. Almost no player would ever be able to complete these requirements before withdrawing, especially when the player has no idea that these terms apply to the bonus!
Furthermore, according to Casino Listings' Grand Duke Casino rogue warning, players cannot even switch games after a big win, but are required to if they want to withdraw their bonus.[3] Yes, it does not make any sense and it shouldn't. It is obvious Grand Duke will think up all kinds of nonsense to stop anyone from cashing out a dime from their casino.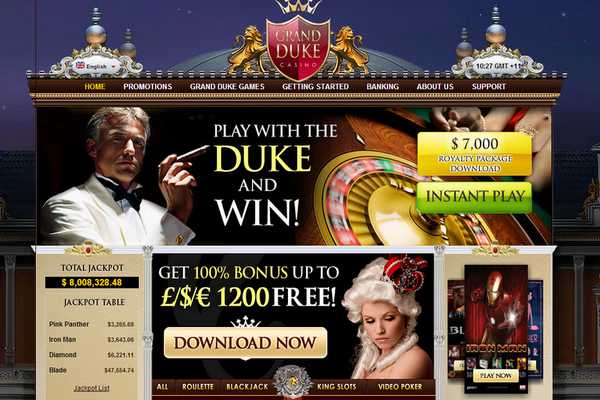 What looks like a tasty signup bonus is actually just a cheap trick to steal your money
Blacklist
Grand Duke was blacklisted and considered a rogue online casino by mostly every industry watchdog site around the web after webmasters got a hold of their ridiculous bonus terms.
More complaints flooded in regarding their ridiculous bonus tactics, which cost players at least $12,000 in complaints tallied from just Casinomeister alone. Worst of all, Grand Duke is non-responsive to players when they are emailed about the issue. They refused to even entertain a discussion with players or third parties trying to help resolve the situation.
Grand Duke Shuts Down?
Many sites reported Grand Duke closed their door in October, 2012 which is clearly a win for online casino gamblers everywhere. However, it seems that Grand Duke was bought by another group that promised to fix any outstanding situations with players and affiliates alike before it reopened the casino.
This apparently turned out not to be true as management was assured before they acquired the casino that there was no outstanding complaints or money owed to players. Of course, this could not be further from the truth.
GrandDuke.com Today
Grand Duke's site is still up and may have not been reopened for business by the new ownership group. Many links are broken, but it still has a progressive jackpot by Playtech actively accumulating on the left side of the page. The links to download software and live support are dead. They still promote a large deposit bonus offer, but again, that link is broken, as well.
It is tough to say what the new ownership group will do to Grand Duke. Is it even a priority for ownership? Could it be the same group that owned Grand Duke under a different alias? No one seems to know.
For now, it's a wonderful thing for unsuspecting online casino gamblers that Grand Duke is shut down. Let's hope it stays that way.
Article Sources
[1] Grand Duke Casino??? – Casinomeister
[2] Grand Duke casino stole money from me!!! – Casinomeister Forum Report
[3] Rogue online casinos, blacklist and warnings "Grand Duke" – Casino Listings report